Banned in the UK – Sex Pistols exiled to Oslo 1977 (Paper book)
kr 325
The  book about the punk rock band Sex Pistols' legendary concert at Pingvin Club in Oslo July 20, 1977, written by Trygve Mathiesen with Harry Nordskog as co-researcher, contains lots of previously unpublished photos of the group, witness reports from the bands press conference, gig and after parties, and the complete list of spectators at this legendary concert. Besides first-hand re-tale of the actual gig, Mathiesen and great analyses of the Sex Pistols philosophy and influence on the music business. As eyewitness Asle Kristiansen observes, «it was probably the first time in 15 years that rock was 'dirty' again».
Beskrivelse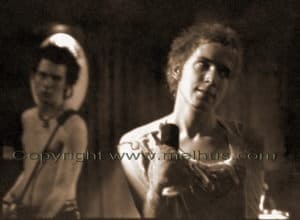 Punk author Alex Ogg call the book about the legendary punk rock band 'a forensic examination' on the back cover.
ALEX OGG about the book:
«Sex Pistols' Scandinavian tour of 1977, with the band at the height of their notoriety, saw the curious and the concerned gather togawp and gaze. On the night of July 20, the tiny Pingvin Club in Oslo saw its official capacity of 200 overcrowded, the audience a mixture of the bohemian and the bemused, including bearded hippies with the legend Sex Pistols inelegantly scrawled on their jumpers.
Trygve Mathiesen's tale is a forensic examination of forces surrounding the band at a specific time and place when the possibilities were still endless, even though their eventual collapse was only months away. Using original shorthand notes from the group's press call, Johnny Rotten is at his most articulate and forthright, with Sid Vicious playing the punk rock delinquent of popular myth to a tee. Just as illuminating, however, are the first-hand testimonies of those who witnessed their show at the Pingvin, and the ripple effect that ensued. As Asle Kristiansen observes, one of dozens of eyewitnesses interviewed, «it was probably the first time in 15 years that rock was 'dirty' again».
Alex Ogg is author of No More Heroes: A Complete History of UK Punk
from 1976 to 1980 and Independence Days – The Story of
UK Independent Record Labels.
Tilleggsinformasjon
| | |
| --- | --- |
| Vekt | 1 kg |
| Dimensjoner | 21 × 21 × 0,5 cm |