Scream (eBook) – Parodies of Edvard Munch's masterpiece!
kr 159
86 parodies of Edvard Munch's Scream!
The Norwegian artist and cartoonist Arvid Andreassen has, in this elegant humour-book, a bestseller at The Munch Museum in Oslo, gathered 86 of his 300 parodies of the Norwegian painter Edvard Munch's "Scream". Enjoy this hilarious book in paper or as eBook!
Beskrivelse
The world's most famous angst-ridden person is placed in numerous funny situations, and Arvid also shows how 17 well known artists (Picasso, Miro, Klee, Michelangelo, van Gogh, Moore, Dali, Cezanne, Duchamp, Gragg, Magritte, Van Eyck, Chagall, Hokusai, etc) could have incorporated "Scream" in their art work.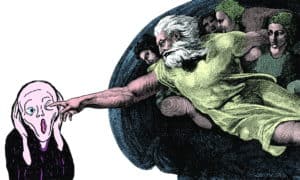 This is an elegant, humorous book with 100 pages in color.
Click here for «Scream» paper book.
The experienced art journalist Arvid Bryne, who was Arvid's editor during more than two years when Arvid produced about 100 versions of "The Scream" to be printed every Saturday in the Norwegian daily Dagbladet, has written microbiographies about these artists, and also a brief presentation of the life and art of Arvid Andreassen.
"Scream" is published in both English and Norwegian by publishing house Melhus Communication as, Jon Morten Melhus:
English edition "Scream":  ISBN 82-997 166-1-6.
Norwegian edition "Skrik": ISBN 82-997 166-0-8.
eBook:ISBN_9788293130079
Arvid Andreassen
(2013-2019) studied at The Oslo National Academy of the Arts. Back then, his days began with drawing for two hours at the Norwegian daily Aftenposten before going to school. He has been drawing ever since. His cartoon drawings with his distinctive signature have been published in many countries. He has won prizes and honour in the Netherlands, Turkey, Japan and Bosnia Herzegovina. Being the only Norwegian, he has received an honourable two-page long mention in "Who's Who in Satire and Humour", an international review of satirical and critical cartoonists. For several stints of time, he has also drawn for the Norwegian daily newspaper Dagbladet and he is a highly appreciated co-worker for lots of Norwegian magazines. He published 12 paperback books with a selection of his cartoon drawings. In addition, he has illustrated around 200 school books for Universitetsforlaget, one of Norwayls largest academic publishing companies.
During the summer of 2005, he had the great honour of seeing 14 of his Munch-inspired Scream-drawings – several of them presented in this book – at the exhibition "Munch revisited" at the Henie Onstad Art Centre at Høvikodden in Oslo.